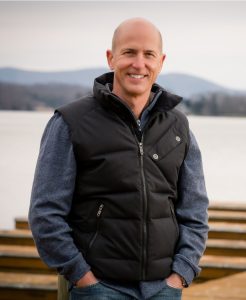 Dr. Bryan G. Sicher, DMD, is committed to professional excellence through perpetual education, clinical training, and team development. He is a Fellow of the Academy of General Dentistry, and a Fellow of the International Congress of Oral Implantologists. He is is a native of Kane, Pennsylvania, and graduated from Westminster College with a B.S. in Biology. After graduating from the Temple University School of Dentistry he joined the Navy and served with the 2nd Marine Division and later aboard the USS Fulton. He also worked in private practice in Stafford, Virginia, before discovering Smith Mountain Lake. Dr. Sicher opened his practice at the lake in 1989 and moved to his current facility in 2001.
Dr. Sicher and his wife, Sharon, have raised 4 children at Smith Mountain Lake. They continue to enjoy the community and the amazing outdoor recreation available all year long.
---
Meet Dr. Carter W. Wright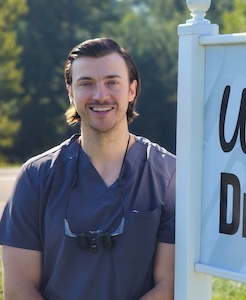 Dr. Wright was born and raised in Roanoke, VA where his entire family still resides today. After graduating from Hidden Valley High School at the age of 17, Dr. Wright reclassified as an athlete to attend Hargrave Military Academy in Chatham, VA to join the basketball team. There, Dr. Wright received a full athletic scholarship to attend Mars Hill University in Asheville, NC. After two full seasons at MHU, he decided to transfer to Roanoke College for his final two years of undergrad, where he received his B.S. degree in Biology. Immediately after graduation, Dr. Wright began dental assisting full- time at New Horizons Healthcare for just over a year. Dr. Wright was accepted into the Virginia Commonwealth University Dental School where he would spend the next 4 years. During his time at VCU, Dr. Wright was a Special Health Care Needs "Select" which allowed him extra clinical time with patients either born with or later developed special health care needs. During his time as a selector, he fell in love with being able to provide dentistry to those in crucial need. Dr. Wright is fully committed to continuing his education in the dental field in order to provide the best comprehensive care to his patients. Dr. Wright believes in working for the patient to attain any and all goals they would like to achieve. He believes comprehensive care is crucial when combating dental caries, abscesses, periodontal disease and much more in everyday life. Dr. Wright has had a strong passion for the dental field ever since the 3rd grade and has always felt called to the profession. He is fully committed to providing any oral healthcare needs to the Smith Mountain Lake area and feels blessed to be able to call it home.