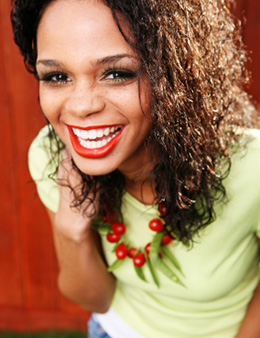 Many people want straight, beautiful teeth, but not many people are interested in the wires and brackets of traditional braces. Fortunately, we can offer you a solution that will straighten your teeth— no metal necessary.
What Is Invisalign® Treatment?
Invisalign is a teeth-straightening method that's easy to use without drawing undue attention to your mouth. Rather than using wires to gradually shift your teeth into place, Invisalign® treatment uses smooth, clear trays.
As your teeth begin to shift, you will periodically receive a new tray to replace your outdated one. Wearing these trays regularly will soon have your teeth just the way you want them, and you'll never need to feel self-conscious about any sparkling metal on your teeth.
What Are the Advantages of Invisalign® Treatment?
The most noticeable advantage of this treatment is how subtle it is! These trays are so clear that almost no one will be able to see that you're wearing them.
Invisalign® trays are also more flexible than traditional braces. While it's important to wear your trays for 20-22 hours a day, it's easy to remove these trays for pictures or for eating certain foods. Not only can trays be easily taken out, but there are no food restrictions when you use Invisalign® trays to straighten your teeth!
How Do I Get Started?
If you're interested in Invisalign® treatment, come and meet with us! We can tell you whether you could be a successful candidate for this treatment by taking a look at your teeth.
Teeth-straightening treatment often starts with an impression of your teeth. The impressions of the past involved a gag-inducing goop in your mouth. Instead, we have a CBCT scanner! This scanner helps us produce a three-dimensional model of your teeth to guide your treatment.
If Invisalign® treatment is right for you, we can help get you started with the process by providing you with a custom-fit tray and answering any questions you might have about the process. You'll soon have the straight teeth you've been waiting for— along with comfort and convenience.
Call Today for Straighter Smiles!
Contact us today to schedule an appointment or to learn more about straightening your teeth with Invisalign® trays!