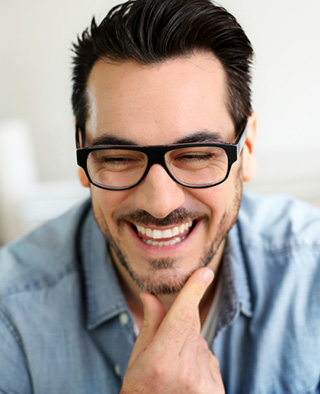 At our office, we pride ourselves on maintaining cutting-edge dental technology. Medical technology is constantly improving, and we will always be there to integrate those innovations into better dental care for you.
What Can Our Technology Offer You?
Because we pride ourselves on our advanced dental methods, we offer many different services that are enhanced by technology. Technology is important to us, and we believe you'll have a smoother and more comfortable experience when we take advantage of these innovative devices.
Convenience
When you work with us, you'll have access to CEREC, a machine that helps us design and produce crowns and other items while you are in the chair! Rather than taking a few weeks to produce and place your crown, we can offer a same-day restoration.
Using CEREC means less time waiting for restored oral health.  We can take impressions of your teeth without losing any of the precision and use that information to design a unique crown for you. We can place your crown the same day you come in, so we can give you a truly convenient restoration process!
It is so important to have dentalware that fits your unique mouth. This helps you feel more comfortable and keeps you safe as well. We are proud to use a Drufomat machine so that we can make our removable dental appliances an even better fit for you personally.
We can even use this machine to do some emergency denture repairs to get you feeling comfortable again as soon as possible!
Comfort
Your comfort is our priority when you come in for a dental appointment. We want to provide quality care while you relax in the chair, and we have a number of devices that do exactly that.
Isolite is a device we use to control the amount of humidity in your mouth while we work. Rather than uncomfortably flooding your mouth with saliva, we can keep certain areas dry while we work on cleaning your teeth or performing other procedures.
Cavitron is one of our favorite devices. It helps us quickly and comfortably remove plaque and tartar from your teeth. Instead of enduring the scraping sensation of our tools, you can have your teeth effortlessly cleaned with this ultrasonic device.
Accurate Imaging
Digital x-rays use an electronic sensor that captures and stores the digital image on a computer. This image can be instantly viewed and enlarged to help the dental hygienist detect problems quickly and accurately.
They reveal hidden dental abnormalities like cysts, bone loss, decaying between teeth, tumors, developmental abnormalities, and more. Detecting and treating these dental problems at an early stage can save money, time, and unnecessary discomfort!
Besides the advantages in diagnosing and treating dental problems, digital x-rays offer an 80 percent reduction in radiation compared to conventional x-rays, with no need for film or processing chemicals.
This technology delivers an image in seconds while also allowing the technician the option of enhancing the image with color contrast. Storage of the images is also less problematic, as there is no longer any need to store and manage hundreds of films.
Excellence
The technology we provide here at Smith Mountain Lake is evidence of just how much we care about you and your needs. In our office, we want you to have the highest quality treatment available, and that's why we're so excited for our CBCT scanner.
This technology helps us produce an accurate, high-definition, three-dimensional image of your mouth, which can be used for a wide variety of diagnoses and treatments. Some of these uses include planning implant placement, detecting tumors and infections, and viewing soft and hard tissues of the mouth together in the same image.
Unlike a 2D image, the cone shape of the beam allows us to view your teeth and jaw from multiple angles, which makes the resulting image much more accurate. Not only that, but our Planmeca machine is an industry leader in using ultra low radiation without sacrificing any of the image or scanning quality!
Safety
We use a Purline Waterline Filtration system to ensure that water used in your procedures is safe and clean. This helps us reduce contamination while we work to restore your health.
We also love our VELScope when it comes to patient safety. This device helps us identify oral abnormalities like oral cancer. When diseases like this are identified early, we can help you treat them effectively, so you can enjoy years of smiles.
Call for an Appointment Today!
These are just a few ways we strive to put technology to work for our patients. Contact us today to schedule an appointment or to learn more about what our dental technology can do for you.