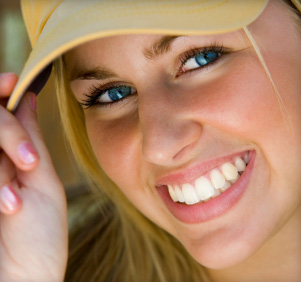 Over time, teeth tend to naturally change color, often due to age. Habits like drinking coffee or smoking can speed up this discoloration process, leaving people with yellowed or stained teeth. Whether your teeth are badly stained or simply not as white as they could be, teeth whitening can help give you a new reason to smile. 
Teeth whitening is a simple process that doesn't take much time but can make a big difference to your appearance and self-confidence. If you've been looking for a way to brighten your smile, speak to us about our teeth whitening process. You'll love what it does for your look!
What Is the Whitening Process Like?
Because we use take-home Ultradent products, you can whiten your teeth in the comfort of your own home, on your own schedule! After meeting with our staff to make sure that you are a good candidate for the whitening process, we can answer any questions you might have and send you home with your whitening kit.
These kits are straightforward and user-friendly. You will receive smooth, comfortable trays that fit securely over your teeth. You will fill these trays with a safe tooth-bleaching substance that is designed to whiten your teeth without damaging the enamel.
How Long Does It Take to Whiten Teeth?
The length of your whitening process will depend on your teeth. Our team can talk to you about how long your process will take based on your individual needs. Regardless of how much time your whitening process takes, you can have sparkling white teeth when your treatment process is completed.
Until you've tried this whitening process, you won't realize how white your teeth can be or what a remarkable difference it can make in your appearance. Your teeth have dazzling potential, and we want to help you unlock it!
Get a Brighter Smile!
Contact us today to schedule an appointment with us or to learn more about our whitening process!